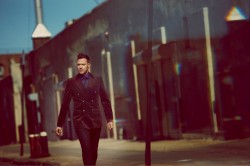 Will Young has been cut from the film version of Shakespearean tragedy Coriolanus.
Young — who has previous when it comes to serious acting — told So magazine (as reported by Contactmusic) that his cameo was cut because he "stood out for all the wrong reasons".
"It was a small talking part but they took it out in the end," he continued. "There were all these acting greats and then Will Young pops up to say a few lines. It just didn't work. It wasn't the character, it was me."