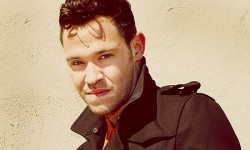 Will Young has 'spoken out' about Rihanna's sexually-explicit lyrics in an interview with OMG!, noting that as a feminist he does not find her rump-a-thon 'S&M' empower­ing for women.
"I don't think Rihanna is a massively great role model for women, her lyrics aren't empower­ing," he explained. "She's a brilliant pop star and recording artist but her lyrics are not empower­ing — young girls have to listen to those lyrics."
The 'Hopes & Fears' hitmaker continued: "I saw Rihanna kissing a girl in one of her videos and I thought who is this for? If you're going to do it just go the whole way like Madonna did and have sex on a bed. I'm more inter­ested in female pop stars that are empower­ing for women as a feminist myself."
We imagine Olly Murs' views are very similar.