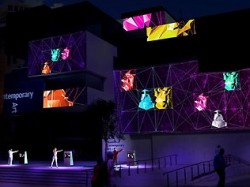 will.i.am has trans­formed Sydney's Museum Of Contemporary Art into a giant audio visual install­a­tion, like a twat.
"The install­a­tion is easy to play and was designed so that anyone can make music just by using their hands," will told news.com.au.
A track produced by will is altered depending on your hand movements, allowing you to virtually push and pull projected icons that control the music. It's a bit like a giant musical Nintendo Wii. A Wii.i.am, if you please. [THAT'S QUITE ENOUGH OF THAT — ED]
The install­a­tion is one of 12 similar projects 'curated' by will and his buddies at Intel. Oh there it is, the corporate backer. Can you believe we got to paragraph four before that popped up?
"I got thinking what's the new instru­ment? We've got a guitar and a piano, why not transform a building into something we can all play?," will mused.
Just put your hands by your sides and walk away.