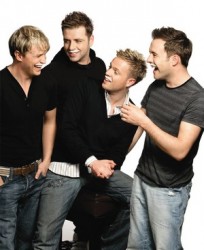 In an interview with the Sun, Westlife's Nicky Byrne has spoken out about the band's rela­tion­ship with the X Factor boss saying: "We almost felt a little bit unloved with Simon Cowell, if I was to be honest."
Byrne blames Simon's role on shows like X Factor and American Idol for weakening the bond between the band and him, con­tinu­ing, "Simon became famous himself and his interests went that way rather than on Westlife."
All this comes after Westlife left Simon's Syco label last year and signed to rivals RCA. It's fair to say Westlife had a pretty good innings with Simon however, racking up 44 million record sales worldwide.
Byrne also let on about the new 'urban' direction the band may be heading down for their new album, saying "If we are going to keep up with the big pop stars then we have to think outside of the box. That's what we're doing now with our new team." We imagine Lady Gaga is shaking in her boots after hearing that.