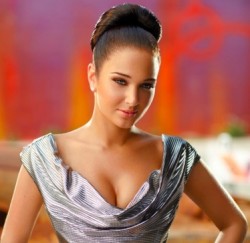 'Teardrop' chanteuse Tulisa has no idea when her next single's coming out.
Asked by someone from The Sun if she would be per­form­ing during The X Factor live shows later in the year, she replied: "Obviously I'll have more singles out this year so it just depends if the timing of the single is when the show is on."
"It's a pos­sib­il­ity but I've got no idea yet when my next one will be out."
Imagine if Tulisa's record label weren't able to marry up her release schedule with the hugely suc­cess­ful TV show she features heavily on. What a sorry state of affairs that would be.
One certainty, however, is that she's not going to change her dis­tinct­ive judging style. "I'm def­in­itely not going to try to do anything dif­fer­ently – but obviously I've matured in the past year," she said.
"I managed to have a laugh last year but I just think I am going to be less worried about what people think."
This sounds like a good approach to spending another few months sat next to Louis Walsh.