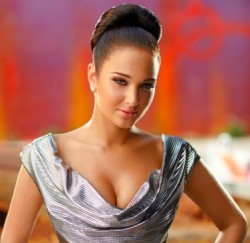 'Toot It & Boot It' chanteuse Tulisa isn't that bothered about having a Number One album to be honest.
Talking intensely about the fun subject of chart positions and record sales with the BBC, she said:
"Having a Number One album isn't important. Let me tell you something, do you know how many artists go to Number One in the charts and they release on a certain week because they know that in that week they have more chance of going to Number One? Then they drop out of the album charts a week later and they might have sold 100,000 when they could have sold 400,000."
It didn't stop there either: "For me, just like with N‑Dubz, I don't care about having a Number One album, I care about going Platinum. I care about the overall sales. What's the point in having a Number One but people saying 'she only sold 60,000 though'? I don't want that."
She's also not inter­ested in teasing an album by releasing one awful single when you can do it with two, possibly three.
"Most people these days kind of drop the one single and then the album but that was one thing I said I would never do," she explained. "I have to put the back­ground work in. I've got to give people a reason to buy it."
Hm.