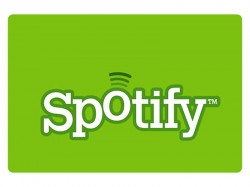 The Official Charts Company has launched a Streaming Chart which is a chart of streams.
The chart will 'debut' on Monday May 14 at 1PM, and will be comprised of data compiled from Spotify, Deezer and, er, Zune.
This will be the first UK chart to take into account streaming, which appar­ently racks up about three times the numbers of a Number One track on the download chart. Billboard have been doing an On-Demand streaming chart for a few months now, and there's quite an inter­est­ing article about the whole thing here.
As part of the whole 'hype-building' sur­round­ing the chart's launch, the Official Charts Company have compiled a list of the most streamed artists of 2012 so far, with the top three comprised of Ed Sheeran, Lana Del Rey and David Guetta. It's basically the normal chart but in a different order.
Ed Sheeran said that it was "amazing to hear that I am the most streamed act of 2012. A new Official Streaming Chart that recog­nises another way of enjoying music can only be a good thing."
:(