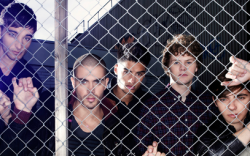 All-singing, no-dancing band of boys The Wanted are the latest pop group to announce a woodland concert.
Westonbirt Arboretum (we haven't made either of those words up 'btw') in Gloucestershire will host the event on July 20, and Nathan, who hails from the area, said: "It's so cool for me to do a home show in such a great place."
He added, and we advise you to sit down before you read this: "I'm sure you'll be glad you came!"
The Wanted follow Will Young, Plan B and Steps who will also perform at the con­i­fer­ous concert venue this year.
Tickets cost £27.50, and are available from here.