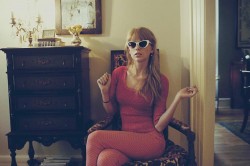 Taylor Swift is already working on her new album and it's coming along very nicely thanks for asking.
Having a chat to lots of journ­al­ists in a room after the American Music Awards (but quoted in this instance by Rolling Stone), the 'Tim McGraw' hitmaker said of the album:
"I'm so obsessed with where it is right now because I think, for me, the goal is that we start coming upon a sound that's different from everything that we've done before, an identity to a new record."
(Fingers crossed Max Martin's involved though right guys.)
She continued: "Having come upon that so early in the process is just really thrilling."
So is it way ahead of schedule though?
"I've got a lot of time to write more, but it's really looking promising so far… It's way ahead of schedule. So I'm really stoked for you to hear it."
Great, send it over!