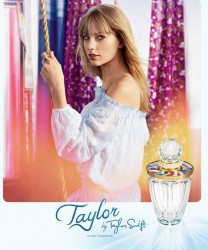 Noted perfumer Taylor Swift has 'unveiled' her third 'scent', the cap­tiv­at­ingly-titled Taylor.
Taylor — which appar­ently blends "top notes of lychee, sparkling tangerine and magnolia petals, and a base of san­dal­wood, apricot nectar, and a blend of woods" — is the follow up to Wonderstruck and, of course, Wonderstruck Enchanted, and shows off the real Taylor.
"My first two fra­grances were more about fairytales," she said (as quoted here). "But this fragrance is more about my own style [SHE MEANS 'MY OWN BANK ACCOUNT'], so I wanted the name to be more personal."
Asked what it smells like, she said: "It's sweet, it's soph­ist­ic­ated, it draws you in. It's really my way of trans­lat­ing classic, yet modern, into a perfume."
Sure.