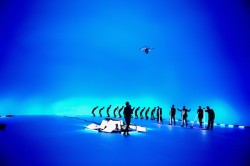 Riot shields at the ready: Take That's Progress tour opens tonight in Sunderland.
If you haven't managed to get tickets, all is not lost. The band are releasing the video to their new single 'Love Love' on their website at 4pm today as a small visual consolation.
In the meantime, feel free to admire this beautiful blue still that we've acquired. We were sent some others but they took so long to upload we gave up.
'Apols'.