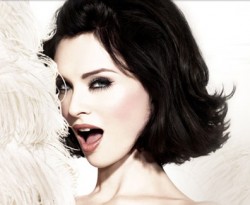 In an interview on her official website Sophie Ellis-Bextor has announced that she is currently working on two songs and that they are "both quite dancey".
"One is slightly Robyn-esque," she elab­or­ated, "and the other one is a bit more anthemic, hands-in-the-air kind of thing."
The tracks have been sent over by producers with the intention of Sophie writing the lyrics as opposed to working together in a studio, which appar­ently is the same way 'Groovejet' (and to be fair about a million other col­lab­or­at­ive pop tunes) came about.
Of 'Groovejet' Sophie says: "That one was an instru­mental that they sent to me. I went into a studio and just recorded what I'd done, which was verses, a chorus and a middle eight."
Sophie still has the original demo, but don't expect to hear that or the other tracks anytime soon because she's about to have a baby and "wants to be spending time with the kids".
Fair play Bexto.