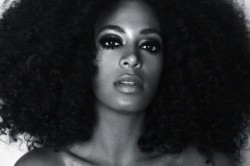 Beyoncé's Sister Solange has announced details of her very own label.
Earlier yesterday reports emerged on Billboard that she had signed with Columbia Records, so she 'took to Twitter' to clear it all up for us.
"Big news day for me! Wasn't ready to announce, but since false info is spreading I will gladly do so:) Supppppperr EXCITED!" she began.
"Super stoked to announce I've started my own label, SAINT RECORDS, where I'll be releasing my music & other projects dis­trib­uted through SONY!"
So that's quite exciting for her. So what sort of things will you release through Saint Records, Solange?
"It is through SAINT RECORDS that I will be releasing my full length album, and also future music projects that I'm excited about sharing!"
Anything else?
"Through Saint Records I will have 100% creative/artistic control & continue to pas­sion­ately pursue my footing in this new musical movement."
The End.