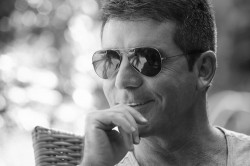 Simon Cowell has con­grat­u­lated The Voice and BBC 1 con­trol­ler Danny Cohen after authen­ti­city and spinning red chairs beat a dancing dog in the ratings on Saturday night.
"A slightly irritated congrats to Danny and the BBC," Cowell tweeted after The Voice was watched by an average of 9.5 million people compared to Britain's Got Talent's 9.1 million.
He was still happy with his own show thank you very much, adding: "I thought our team made a fantastic show last night and congrats to them as well. Loving the show this year."
You can read more about who saw what and for how long and what per­cent­age that makes up here if you like.