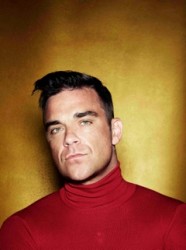 Robbie Williams expressed some opinions in regards his current standing in the music industry at last night's Sony Radio Academy Awards where he was performing.
"I did the Brits and started singing, 'Hey-ho, here we go' to a bunch of industry people and they were all just like, 'Fuck off, you're fat and you're old'," he mused, as reported by The Sun. "'And Radio 1 don't play you no more – you're fat and you're old'."
Noticing Nick Grimshaw in the audience he added: "Isn't that right Nick, you bastard?"
So that will help.