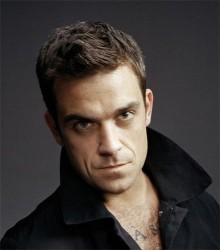 Robbie Williams suffered an embar­rass­ing wardrobe mal­func­tion on stage during a Take That show in Cardiff last night.
During a typically rousing version of 'Let Me Entertain You', the 'Morning Sun' hitmaker split his trousers. He carried on regard­less before whipping off the trousers com­pletely by the end of 'Angels'.
Standing in his pants, he then urged the crowd to film the scene on their mobile phones, before thrusting at the camera.
One fan who witnessed the scene seemed to be surprised at Williams' antics, as if him showing off was somehow a new thing. "No-one might have noticed at first, but Robbie seemed to want to make a big deal of it," she told Wales Online. "After all these years he still wants to be the centre of attention — he wasn't embar­rassed at all."
That quote was def­in­itely not made up.