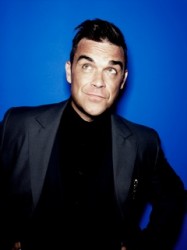 Robbie Williams is jealous of the success One Direction are having at the moment.
"I'm jealous of them and I wish I was doing it all with them," he told BBC Newsbeat. "I'm looking forward to seeing where the road takes them for many years to come I hope."
He was also keen to clear up any rumours that he doesn't like the "boys", but we'll let him tell you that.
"I am quoted as saying, 'Robbie Williams slammed One Direction. Robbie Williams had a go at One Direction'. I really didn't — I love the boys."
He then added: "They do perform like they've never met each other and there's a certain charm to that too. It's brilliant."
Amazing.
Of his own career, the 'We're The Pet Shop Boys' hitmaker said he'd basically only tour his new album if 'Candy' was a success.
"I don't want to emo­tion­ally blackmail the whole of the nation but if 'Candy' is not a hit, I'm not touring," he explained. "I'm going to get all beardy and fat again — it's up to you if you want that to happen."
You know what to do.