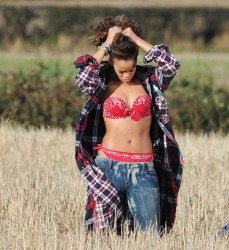 Rihanna's 'We Found Love' video won't be shown on French tele­vi­sion during the daytime and will only be broadcast after 10pm.
As reported in WENN, The Officials at the Supreme Audiovisual Council of France (who else?) have cri­ti­cised the ''self-destruct­ive'' and ''pro­nounced sug­gest­ive'' content, which looks like the making of a quite good song lyric.
This is the second time within a year that a Rihanna video has caused a 'stir' after her video to 'S&M' was banned in several countries.
However, she still has some way to go in over­tak­ing Madonna and Britney Spears in 'censored' charts, who have had six and eight of their promos cut respectively.