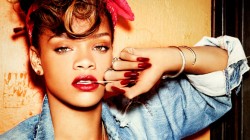 One Direction's 'Live While We're Young' is just 246 copies ahead of Rihanna's 'Diamonds' in the UK midweek singles chart, reports Music Week.
Both singles have sold over 50,000 copies each and look likely to pass the 100,000 sales mark come Sunday. So that's nice for the artists and their respect­ive record labels.
Ellie Goulding should have a Top 5 'smash' with 'Anything Could Happen' given that she's safely at Number 4, while a single by bloody Jason Mraz is due to enter the Top Ten after it was performed by Ella Henderson on The X Factor.
On the album chart, Muse are at Number One at the moment with sales of over 70,000. :(