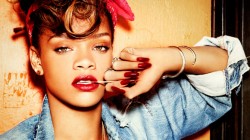 'Dem Haters' hitmaker Rihanna has been talking about her new album, 'Unapologetic'.
"It was a song that meant something," she told MTV, speaking of current single 'Diamonds'. "And that's the whole theme through­out the album."
She continued: "I think a lot of people are afraid of being happy because of what others might think of it…They're afraid to embrace that and embrace them­selves and love them­selves and do what they love and do what makes them happy. My story is def­in­itely going to be a happily ever after, no matter what."
Rihanna starts her com­pletely ridicu­lous and amazing 'Unapologetic' pro­mo­tional tour on November 14.