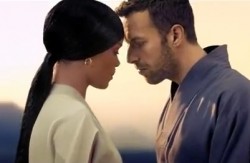 Rihanna is appar­ently set to perform 'several songs' at the Paralympics Closing Ceremony, as are serious musicians Coldplay.
According to The Daily Star, the 'Question Existing' singer will sing a few of her own popular ditties prior to duetting with Coldplay on 'Princess of China'.
A know­ledge­able 'source' said: "The Closing Ceremony is basically a glorified Coldplay concert. They will hardly be off stage."
The closing ceremony itself will allegedly focus on the elements (Earth, Wind, Fire, Water and Heart for those of us who never saw Captain Planet) which can only lead one to assume the whole thing is some form of homage to the Spice Girls 'Holler'/'Let Love Lead The Way' videos.