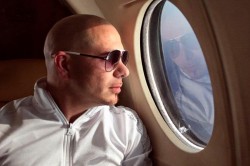 Modern day Hugh Hefner Pitbull sees Will Smith as the "blueprint" for all the things he'd like to do.
During a bit of a chat with Billboard, the 'Stripper Pole' hitmaker also noted that his next album will be called 'Global Warming' and that the first single from it will be 'Get It Started' featuring Shakira.
In terms of the whole Will Smith thing, Pitbull referred to Smith as "the blueprint of being someone who went from music to movies, and movies to being an entrepreneur".
(He neglects to acknow­ledge that Will Smith did all this and became a role model for millions by pushing extraordin­ar­ily positive messages, instead of just intim­at­ing really quite strongly that he wanted to stick his cock in women's bumholes.)
Pitbull added that it was "an honour" and "a blessing" to be involved in the searing social insight that is Men In Black III, calling it more than a movie: "It's a business, it's a franchise."
"I'm not only studying the franchise, I'm also studying Will," he continued, ominously.