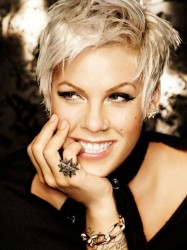 'Bridge Of Light' hitmaker Pink has announced details of her new single.
The 'amusingly' titled 'Blow Me (One Last Kiss)' will be released on July 9 and was co-written with Greg Kurstin who Pink quite rightly describes as "amazing".
The announce­ment was made via a 35-second video message (you can watch it here) in which Pink says of the song: "I think you're going to like it, because I really like it, and I like it enough for all of us."
We also learn that Pink's one-year-old daughter plays bells and bass on the as-yet-untitled new album.
That bit is def­in­itely true.