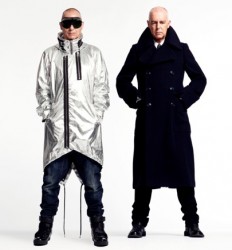 Pet Shop Boys have announced the first couple of UK dates for their 2013 Electric Tour.
According to the press release the tour will "will highlight the duo's elec­tronic music and style", which sounds quite agreeable.
Excitingly, the music for the shows will be handled by Stuart Price and they'll also be working again with creative director and set designer Es Devlin and Tony award-nominated stage director and cho­reo­grapher Lynne Page (they all 'helped out' with the Pandemonium tour).
Here are the dates that have been announced so far:
The O2, London — Tuesday June 18, 2013
Arena, Manchester — Thursday June 20, 2013
Tickets go on pre-sale on Thursday and proper sale on Saturday. There's more inform­a­tion here.
Blimey!