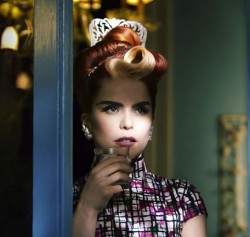 Paloma Faith will be lending the singer from The Script a helping hand during The Voice's next stage, while sim­ul­tan­eously filling the show's Sinitta-esque outfit quota.
The 'It's Christmas (And I Hate You)' hitmaker will help advise acts on how best to prepare to duet to the death on the show, before the con­test­ants are whittled down for the live shows. Frankly, none of it sounds half as exciting as bootcamp or judges' houses.
The other 'coaches' have each drafted in a celebrity guest to give their advice too. The Sun report that Tom Jones has asked along Cerys Matthews, Jessie J has called up her best friend Ana Matronic and will.i.am has decided not to repay Cheryl the favour and has gone for a man called Dante Santiago instead. Apparently he was in the Black Eyed Peas in their dark pre-Fergie days.