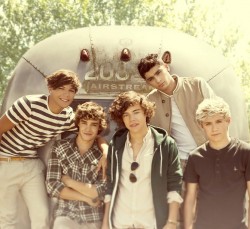 One Direction's debut album didn't cost as much to make as some people have been saying.
Speaking to the Evening Standard (as quoted here), the omni­scient Simon Cowell made it known that the cost of 'Up All Night' was "nowhere near" the rumoured seven-figure mark which has been floating around the internet.
The album, which has sold over three million copies, has, however, spawned a £50 million empire built on 'col­lect­able' dog tags, stick-on nails and stage dioramas.
Modest Management co-founder Richard Griffiths also revealed that the group were offered a "huge amount of money" to promote a product but the boys turned it down as they felt that fans would not buy that brand.
Looks like Ovaltine will have to continue their search.