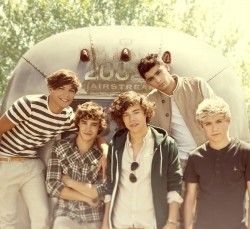 One Direction hope their forth­com­ing 3D film will allow fans to get to know them "deeper".
The film, which is due out on August 30 2013, will be directed by Morgan Spurlock of Super Size Me 'fame'.
"Morgan works well because…he did a lot of doc­u­ment­ary movies," band frontman Niall told MTV. "That's more what we want our movie to be."
"It's going to be a concert movie, but with a doc­u­ment­ary side than concert side so we wanted to give it like get our per­son­al­it­ies across because the fans know us, but we want them to know us deeper," he continued.
(So basically it's going to be like all the other popstar movies at the moment.)
For Liam it's more just an oppor­tun­ity to save time on taking loads of photos.
"You know what we always say, when we left home to do 'X Factor' our parents were like 'Make sure you take loads of pictures,' but we've got a film to do that for us now so we can be lazy."
Brilliant.