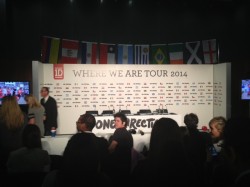 Quite suc­cess­ful boyband One Direction are going on a world tour.
The 'Na Na Na' hitmakers will take their Where We Are tour to various spots around the world in 2014, with the whole thing 'kicking off' in Latin America before coming over to us lucky Brits.
The tour will be a com­pletely different show featuring a brand new selection of songs, which is always good to know.
Speaking about their new album, the words "rockier" and "edgier" were thrown around so make of that what you will.
Here's a picture of the 'lads' dis­cuss­ing said plans.
Tickets for the UK shows go on sale Saturday 25, so set an alarm, mark that calendar etc. etc.