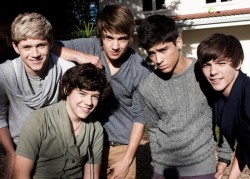 One Direction have announced a 25-date US arena tour for next summer, running between June and August 2013.
The announce­ment comes after tickets sold out for their US tour this summer, as well as their Madison Square Garden date on December 3. They will also be playing UK arenas between February and April 2013.
If you'd like to go to one of these concerts and have one of those five-year diaries so you won't forget it's on, you'll be able to buy tickets from April 21 on Ticketmaster.
Band spokesman Niall Horan said: "We can't wait to see everyone this summer, at Madison Square Gardens and of course when we play our world tour in 2013."
You can view the full list of tour dates on Billboard here.