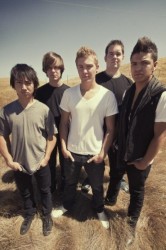 There are two directions.
Five-piece American boyband One Direction are suing five-piece UK/Ireland boyband One Direction for copyright infringe­ment on their name.
The US boyband say they formed in 2009 — a year before X Factor thrust 'solo artistes' Niall, Harry, Liam, Zayn and Louis together — and registered their moniker with the US Patent And Trademark Office at that time.
One Direction, who claim to have a "con­sid­er­able" following, are seeking a court order request­ing One Direction change their name and pay them $1m in damages, reports TMZ.
One Direction's 'The Light' is out now on iTunes.
If it comes down to hair we reckon the X Factor lot have got this one in the bag.