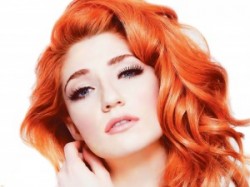 Nicola Roberts did a live Twitter chat this afternoon, answering questions posed by fans, for 46 minutes.
Here's what we've learned:
She prefers coffee to tea, and takes it black (or with soya milk)
Her fin­ger­nails are currently painted lilac, and her toenails are raspberry
She still sees the other Girls Aloud members a lot
… In fact, they're all having a slumber party at Kimberley's house in two weeks, where she'll play them her album
If she could col­lab­or­ate with anyone, alive or dead, she'd pick Eminem
Her career highlight was getting a Number One album with Girls Aloud, and winning a Brit Award
Her favourite shop is Topshop
Her favourite song by Cheryl is '3 Words'
Her favourite way to spend a day off is in bed with her dogs
She would like to record another album with Girls Aloud
Her favourite thing to do in Liverpool is to hide in the corner of a dingy club
When she's drunk, she talks shit
Her celeb girl crush is Vanessa from The Saturdays
She is a fan of Jessie J and Nicki Minaj
She can't wait to meet Lady Gaga
Her favourite shoes are the "modern day glass slippers" she designed
Her favourite artist at the moment is Diplo
The last gig she went to was M.I.A.
She's allergic to dairy and wheat
Her favourite perfume is Chanel Chance
Her favourite words from the Scouse dialect are "sound", "boss", "lar", and "doll"
She loved the royal wedding but wished they'd filmed the party
The only crisps she can eat are Walkers Ready Salted
Her favourite alcoholic drink is champagne
She prefers EastEnders to Coronation Street
She doesn't smoke
She loves photography

'

Out of Control' was nearly called 'Girls Aloud: Revolution'
Her favourite Disney movie is Cinderella, followed by The Little Mermaid, followed by Sleeping Beauty
She likes The Wanted
She wrote 'It's Magic'
She also wrote 'Beat Of My Drum'
She does still own the "I'm a rude ginger bitch, botherd?!" mini skirt

'

Beat Of My Drum' will be debuting on the radio in June (but a 30-second clip will go up on her website tomorrow)
CDs bought from the official Nicola Roberts store will be autographed
And finally, there are 12 songs on her debut solo album.
Et voila.