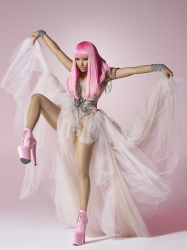 Nicki Minaj has been explain­ing the myriad ways in which Madonna changed her life.
Talking on the Ryan Seacrest radio show and discussed on the ATL Forum, Minaj says: "Meeting Madonna changed my life. Working with Madonna changed my life. Rehearsing with Madonna for two weeks changed my life."
In fact Minaj was so inspired by the 'Give Me All Your Luvin'' hitmaker that she "refused to go to any parties" during the weeks of Super Bowl rehears­als and even let Madonna decide which wig she should wear for the per­form­ance.
"Madonna was the first person in history who was able to make me change my wig," she explained. "I had some choices in terms of colour and she was like, 'Nicki…'. She has a way with words."
She went on to talk about her Grammys per­form­ance ("the religious figure is there because he was called on by Roman's mom to rehab­il­it­ate him"), MIA's one finger salute ("my first feeling was dis­ap­point­ment") and how her new single 'Starships' "just sounds like a Ryan Seacrest-type of record".