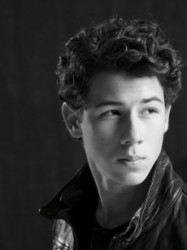 'Nick Jonas & The Administration' singer Nick Jonas has confirmed rumours he might be judging next to Mariah 'Triumphant' Carey on the next series of American Idol.
In relation to the subject, the 19-year-old Disney Radio favourite tweeted: "The rumors are true… I am being con­sidered to be a judge on American Idol, and it would be a dream come true if it happens. #nick­onidol".
(Quite keen then.)
If Nicholas is suc­cess­ful, he will be judging the 'fresh new' singing talents of the US alongside Mariah Carey and poten­tially 'I'm A Slave 4 U' creator Pharrell Williams, who is rumoured to be replacing the guy from Aerosmith.
There may also be a fourth judge if Randy Jackson moves into a 'mentoring' role as rumoured, which will be good news for anybody out there who has heard the phrase "it was a little bit pitchy for me" uttered a few too many times.