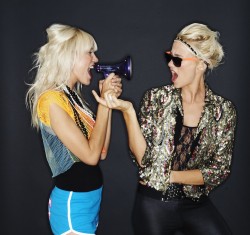 Nervo haven't given all their good songs away to other singers.
Mim Nervo says they've saved "a few gems", including newish Afrojack and Steve Aoki produced single 'We're All No One', for themselves.
She explained to Attitude: "When you're not an estab­lished artist, the singles you release have to be big ones," adding: "I'm looking forward to having a few gems on the album where people can know all the parts of us."
The album — which is yet to get a formal release date — will have an "elec­tronic heartbeat", which we like the sound of.
'We're All No One' gets its UK release on March 12. You can listen to it here and if you find that you like it, you can pre-order it here.