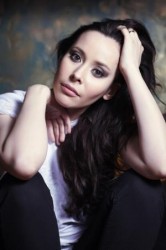 Nerina Pallot has claimed that she has psychic abilities, and that she predicted the current sunny spell in the southern half of England.
In a Tweet this morning, the singer said "I forecast a heatwave and you all scoffed. I don't call myself Mystic Nez for nothing…"
It is currently 14°C in London.
Whether these ESP abilities will have any bearing on the success of her forth­com­ing album 'Year of The Wolf' (released June 13) remains to be seen.
It's probably all bollocks though let's be honest.