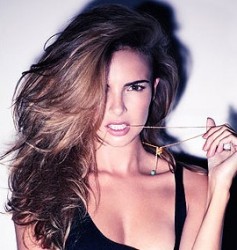 Nadine '2.0' Coyle is rumoured to be following in the footsteps of musical greats Dane Bowers, Sisqo and Kenzie by doing a stint on Celebrity Big Brother.
She allegedly met with Channel 5 'bosses' to discuss what a mar­vel­lous idea it is when she was in London last week for that Girls Aloud catch-up.
"Initially, when she was approached by the station to take part, she turned it down flat," reports a Daily Mail 'insider'. "When she…saw how much was on the table she even­tu­ally agreed."
Nadine is appar­ently doing the £500k 'gig' to save indebted LA eaterie Nadine's Irish Mist and to prove "Cheryl is not the only member of the band that can command big TV show appear­ance fees".
If Nadine does go into the house she'll be joined by Freddie Ljungberg, Julian Clary and someone off Corrie.
Well it did wonders for Mutya's solo career, right?