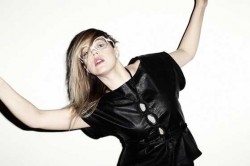 MNDR's streaming her new album, 'Feed Me Diamonds', in its entirety over on Spin's website if you're interested.
There's also a bit of chat about each song and she had this to say about making the album: "I was tested, on all levels at all times. I know who I am. I've been making music my entire life. I wasn't willing to bend and do what the industry wants you to do. I really had time to fight."
Blimey.
'Feed Me Diamonds' is available to buy on UK iTunes from tomorrow for some reason.