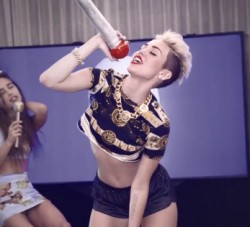 Miley Cyrus and het­ero­sexual animal tamer Robin Thicke have been added to the per­form­ance lineup at this year's MTV VMA awards, as well as being nominated for the just-announced Best Song Of The Summer award.
Cyrus' 'We Can't Stop' and Thicke's 'Blurred Lines' will 'battle it out' against Calvin Harris and Ellie Goulding's 'I Need Your Love', One Direction's recently-released 'Best Song Ever', Selena Gomez's 'Come And Get It' and, of course, Daft Punk's 'Get Lucky'.
The award is voted for by the fans via social media, so look out for some excru­ci­at­ing hashtags.
Cyrus and Thicke join Lady Gaga, Kanye West and Katy Perry on the per­form­ance roster, meaning it's quite an impress­ive lineup really isn't it.
The whole thing takes place on August 25, which is quite soon. Sooner than August 26 anyway.