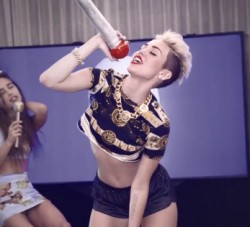 Excellent news for Lesley: Miley Cyrus has claimed she thought about following in the footsteps of Madonna, Cher and Lolly by just being known by the one name.
"I was thinking about dropping the Cyrus and just being Miley but there's something powerful about the fact that my name now is like a household name," the 'We Belong To The Music' chanteuse told Notion magazine (as quoted here).
"People have this mis­con­cep­tion of me that I'm just one of these kids on TV and that now I go off and party and I'm just this ratchet white girl, and I'm not," she continued.
Hm.
Here's the 'We Can't Stop' video.
.