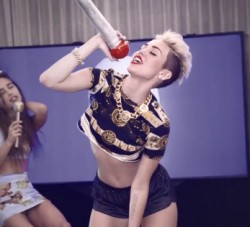 Foam finger enthu­si­ast Miley Cyrus has said she and Robin Thicke always knew their groin-bothering per­form­ance at the MTV VMAs would cause a bit of a fuss.
"Me and Robin [Thicke] the whole time said, 'You know we're about to make history right now'," she told MTV as part of this doc­u­ment­ary thing she's doing.
"What's amazing is I think now, we're three days later [THIS WAS FILMED A FEW DAYS AGO, OBVIOUSLY] and people are still talking about it. They're over thinking it," she continued, before adding tellingly: "You're thinking about it more than I thought about it when I did it."
"Like, I didn't even think about it 'cause that's just me."
She's just being Miley, etc.
She also reckons that, like Madonna and Britney per­form­ances of old, her tongue-waggling will be remembered for a long tim.
"I don't pay attention to the negative because I've seen this play out so many times. How many times have we seen this play out in pop music? Madonna's done it. Britney's done it. Every VMA per­form­ance, that's what you're looking for; you're wanting to make history."
It's a shame when popstars don't really get it, isn't it.