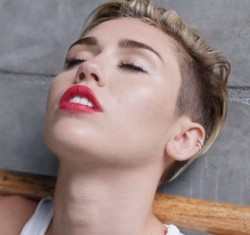 B&Q pervert Miley Cyrus has 'scored' her first ever US Number One single with 'Wrecking Ball', reports Billboard.
The enor­mobal­lad rises from 22–1 on the Hot 100, thanks mainly to the fact that the video's been watched about 800m times in a week or something ridicu­lous. (SUBS PLEASE CHECK)
The song also sold 477,000 downloads in its second week — Cyrus' highest one week sales and the second biggest tally of the year so far behind Katy Perry's 'Roar' (which is bumped down to Number 2 on the chart).
There are more facts and figures here if that is your bag.