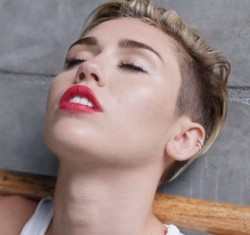 Miley Cyrus has had something specially built for her forth­com­ing per­form­ance on The X Factor.
"I'm doing something a little different, I've got something amazing built for this per­form­ance, that's all I'm gonna say," she told the Capital FM Breakfast Show (as quoted here).
It's going to be a massive fucking wrecking ball isn't it.
"It's really beautiful," she continued. "That place is so big and intim­id­at­ing. It's so awkward singing in front of a judge panel even though you're not being judged."
But aren't we all judged every day of our lives, in one way or another? Isn't that the real issue here?
Anyway beige Mondeo of pop Gary Barlow is the other performer on the night, so that will be equally as spec­tac­u­lar obviously.