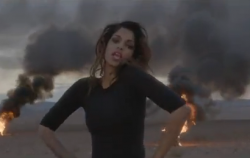 MIA has confirmed via the Twitter that her new album 'Matangi' will be released in December and won't feature any 'collabs'.
The 'Internet Connection' singer tweeted in a Q&A with 'the fanz' that a book, LP, doc­u­ment­ary and 'art exhib­i­tion' (watch out Lady Gaga!!!!) would be coming in December and said, re the pos­sib­il­ity of other artistes: "no collabs ! maybe its based on what they stand for. nobody can cross it, only that know can cross it ."
We're not sure exactly what that means but it looks like there won't be any of that sort of thing anyway.
The 'Give Me All Your Luvin'' star also said, regarding the producers of the record, that they were "ones that dont act like fame whore coloniser".
BUT THOSE ARE THE BEST ONES, MIA!