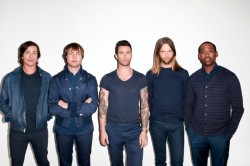 Maroon 5 are the first act to be announced for The Grammy Nominations Concert Live thing that's taking place on December 5, reports The Tennessean.
The concert, which will be broadcast live on CBS, will also feature some other per­formers but no one else has been announced as yet.
Still, LL Cool J will be there to read out some of the nom­in­a­tions and we're assuming Maroon 5 will be on the list given that they're bothering to get to Nashville for the concert (it's usually held in LA you see).
The actual Grammys are being held on February 10 and if 'Stronger (What Doesn't Kill You)' isn't up for every single category then we'll be very angry indeed.