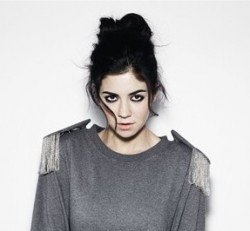 While you're waiting around for Marina & The Diamonds to come on stage at her summer concerts and wondering if you still have to time to go for a wee or not, you'll be treated to soundtrack of Marina's favourite slowjamz.
Marina has put together "a com­pil­a­tion of the best love songs ever written in history" for her pre-show bit.
The list includes the Celine Dion version of 'I Drove All Night' and Britney's 'E‑Mail My Heart' which is certainly a promising start.
The Lonely Hearts Club Tour kicks off on May 4 in Manchester and the rest of the dates are here.