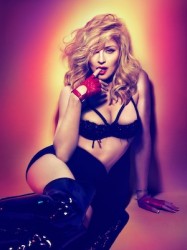 Good news for Madonna's account­ant: she's "inches from sellout every­where" on the North American leg of her MDNA tour.
According to Live Nation head of global touring Arthur Fogel, as reported by The Wall Street Journal, 653,000 tickets to the 43 North American dates have been sold, with 500,000 of those being bought by people from North America.
He also revealed that 30% of ticket buyers had taken up the option of getting a copy of 'MDNA' with their ticket, which helped the album shift 359,000 in its first week in the US (its current total is 456,000, which by our cal­cu­la­tions means she needs to release 'Turn Up The Radio' pretty soon).
The tour 'kicks off' in Tel Aviv on May 31.