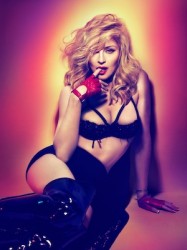 Madonna has sen­sa­tion­ally revealed that she once received a parking ticket for having her "tinted windows too dark".
This shocking rev­el­a­tion came during last night's Twitter chat which also included exchanges with Britney Spears (she wants to kiss her on stage again), Katy Perry (she wants her to come to one of her shows) and Lionel Richie (they made some fairly unsavoury 'jokes' about being on top of each other in the charts).
Elsewhere, the 'Girl Gone Wild' hitmaker also asked Skrillex if he'd support her on her tour, talked excitedly about Avicii remixing one of her songs and had a bit of a chat with Martin Solveig, William Orbit and Benny Benassi.
You can have a look at all this and more here.