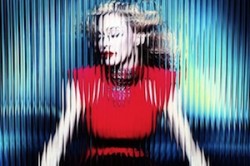 Madonna swore at a small group of her fans after one of them wouldn't stop smoking when she was trying to sing some songs.
Having granted the group access to her sound­check for the show in a rainy Chile she appar­ently embar­rassed herself when her umbrella blew inside out, causing some people to laugh at her.
According to Billboard, she then snapped: "There are people smoking right now. No smoking. If you're going to smoke cigar­ettes, I'm not doing a show. You don't care about me, I don't care about you."
"All right? Are we going to play that game? I'm not kidding. I can't sing if you smoke," she continued.
Apparently the smoking didn't stop.
"You're looking right at me and smoking cigar­ettes, like I'm a stupid fucking idiot," she went on, before storming off the stage.
It was all captured on video of course, but has since been taken off YouTube. :(