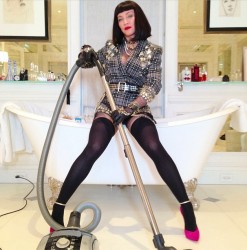 'Turn Up The Radio' hitmaker Madonna held a live Q&A thing on Reddit last night and one of the things she said was that there might be a new album out next year.
Asked if the world can expect some new music in 2014, she replied (as quoted here): "there might be… my creative juices are flowing."
She also said she'd love to work with Daft Punk but they've yet to return her call, which is a bit rude.
Mind you, she also wants to direct another film: "yes thats next on my to-do list. direct a film."
:(
You can try and read the full tran­script here if you like. It's very good.