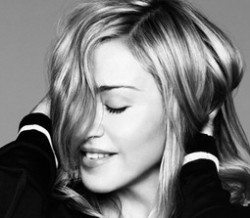 Madonna, Mary J Blige and Florence '+' The Machine have all been nominated in the Best Original Song Written Directly for a Film category at the 2012 World Soundtrack Awards.
Madonna's 'Masterpiece', from her epoch-defining dir­ect­orial debut WE, will 'battle it out' with Blige's 'The Living Proof' (from The Help) and Florence's 'Breath Of Life', which appeared briefly during Snow White And The Huntsman.
The winner will be announced on October 20 at the end of the Ghent International Film Festival. There's some more inform­a­tion about other nominees etc here.
We're not sure if a song about a chicken wrap strictly counts as a song for a film, as such, but fingers crossed for Mary anyway.